Creality CR-10 3D Printer Review -Technical Features, Price, Specs
The question is, though, is it even worth it to buy the Creality CR-10 3D Printer? In our opinion, If you are going to save money, Creality CR-10 is the best 3d printer for you.
It's a large Cartesian style 3D printer with go-faster stripes, a separate control box, and a 300 x 300 x 400mm build area. You can also buy some other versions of CR-10 with print areas of 400mm and 500mm cubed. But If you are using it for home or small business, it will be perfect for fulfilling your need.
Several other manufacturers have now copied the Creality CR-10's distinctive look, even to the colors of the stripes. So, it means that Creality gives something reasonable for their customers. If we look towards Creality 3d printers, they have a variety of printers from beginners to professional level. Now, it's time to explore the Creality CR-10 in terms of design, print, features, cost, and upgrades from previous versions.
Moreover, we have also reviewed The Best Creality 3D Printers of 2022, which also helps you to discover the perfect one!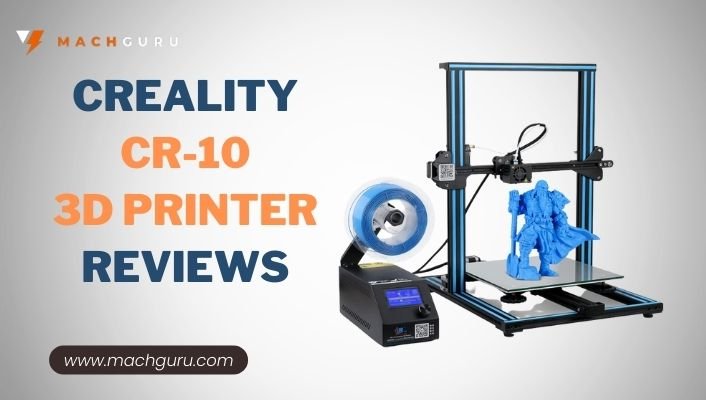 Creality Cr-10 3D Printer Reviews
Crealiy CR-10 3D Printer Review
Specifications:
Build Volume: 12x12x15.5 inch
Easy to Use and Assemble
Reliable and Flat Glass Bed
More choice about 3d printers filament
If you're looking to get into the world of 3D printing without breaking your budget, Creality's CR-10 is an excellent choice. It has plenty for beginners with no tech know-how, but if that doesn't sound like something up your alley, other models are available!
Bottom line: If you're looking to get into the world of 3D printing without breaking your budget, Creality's CR-10 is an excellent choice. It has plenty for beginners with no tech know-how, but if that doesn't sound like something up your alley, other models are available!
Technical Specifications of Creality CR-10 3D Printer
| | |
| --- | --- |
| Printing Size | 300*300*400 mm |
| Nozzle diameter | Default 0.4mm, can be changed to 0.3mm |
| Printing type | FDM (Melting touch stack molding technology) |
| Body structure | Patent technology V-Slot aluminum bearing |
| Operating software | CURA, Repetier-Host, Simplify 3D |
| Operating system | Linux, Windows, OSX |
| Printing method | SD card(off-line), contact to the PC(on-line) |
| Format | STL, OBJ, G-Code, JPG |
| Software supporting | PROE, Solid-works, UG, 3d Max, Rhino 3D design software, etc. |
| Materials | PLA, ABS, TPU, Copper, Wood, Carbon Fiber, Gradient Color, etc. |
| Heat Bed | 3mm thick aluminium heat bed |
| Printing Speed | Normal: 80mm/s, Max.: 200mm/s |
Technical Specification of Creality Cr-10 3D Printer
Design of CR-10 3D Printer
If we are talking about the design, Cr-10 is an open frame design. You can easily watch how it is making the design. The CR-10 is made almost entirely of metal. The frame is 100% high-quality aluminum extrusion. It has the largest build area we've ever seen on a product at this price. It is better to say that this product is specially designed for beginners.
Using the microcontroller or directly with a PC, you can easily control this 3d printer. If you're using a controller, it can be tricky to handle. But using the computer will be a better and recommended option.
This 3d printer machine comes in three different colors that are orange, blue, and black, and the net weight is 8.7kg. You can easily put it on a stool or table.
Printing
In terms of printing, it will give an exceptional design at this price. It will also create complex projects or models pretty. No doubt, the end product from this 3d printer has sharp and clean edges. Moreover, the detailed reproduction is excellent.
An enclosure is one of the first things you need to make. Cr-10 Creality printer supports PLA while ABS filaments have little difficulty maintaining the temperature. It is very simple to make enclosures, although they must be assembled in pieces. You can do a lot more with this printer, though, so it's well worth the price.
Also Read: How To Pick The Best Filament For Creality 3D Printers | Complete Guide
Undoubtedly, this 3d printer is primarily a hobbyist's printer, not recommended for commercial use. Sometimes you will notice a visible stepping layer between the layers; that's why not suitable for a professional printer. Occasionally, skipping layers is not a big deal when printing at home or for hobbyists.
Read: How To Replace Nozzle of Creality 3D Printer Cr-10 v3, Ender 3/5
Creality Cr-10 Features
With the CR-10, you can print on a heated glass print bed, but you have to level this bed yourself. It doesn't include any software, so you'll have to find that separately. The compatible software with this printer is Cura, Simplify3D, and, Repetier-host. We recommend Cura software, which is free and easy to use and among the top 3D printing applications. You can easily find a CR-10 settings profile online.
CR-10 standard model lacks wifi connectivity functionality. But this is not a big issue because wifi features are available in expensive models, mostly above $500. Moreover, Creality company offers you this functionality by paying more to them. As an expert, I strongly suggest you start your 3d printer journey with this standard Cr-10 3d printer.
In terms of features, the CR-10 is quite basic. It comes with a limited feature set. However, this model is a low-cost model intended to help you become familiar with the basics of 3D printing. Additionally, you can always upgrade when your needs change. So, at this price, it will be perfect for home use.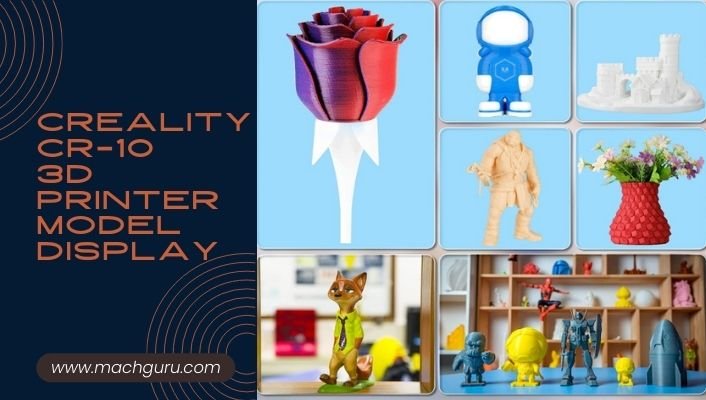 Cost
With a retail price of around $400, this is one of the most affordable 3d printers. The only thing you need to spend extra on is filament and adhesive sheets for the print bed. This price will give you high printing accuracy (+/- 0.1mm) that can meet industrial needs.
Another perk of this 3d printer is that you can use any brand 1.75mm filament with this Creality. So, the running cost of this printer is also affordable. Creality claim that they provide you with a budget-friendly, powerful 3d printer with low maintenance and running cost. That's true, and we admit it in terms of features, design, performance, and cost.
Benefits of Cr-10
Standard build volume rather than small build volume most 3D printers
Assembly is simple
It is easy to troubleshoot because there are few moving parts, and the design is simple.
It's fun to play with large prints
Detail-oriented and comfortable
An easy-to-remove glass print bed
Go-faster stripes
Budget-friendly but still offers a lot
Easy-to-use control box
Drawbacks of Cr-10
Inconvenient placement of extruder
There are a lot of tangling problems with the filament holder
Preparation of prints can be time-consuming sometimes
When it comes to heating the bed, it takes quite a while
Has difficulty working with materials that rely on consistent heat (look at you, ABS)
Application
Creality CR-10 3D printer is suitable for wide applications like medical prototypes, films & Tv props, creative design, and architectural design. DIY and Home decoration designs. You can easily make these designs.
Is the CR-10 Worth Buying?
CR-10 is a trendy model among beginners because it's easy to use and offers good value for money. However, there are some drawbacks or limitations to consider before purchasing:
The print speed is slow compared to other higher-end models.
The filament size is limited to 1.75 mm.
The CR-10 does not come with any accessories.
The warranty period is only 30 days.
Overall, I strongly suggest you buy this printer if you want to start your journey in the 3D printing world. Moreover, the Creality Cr-10 3D printer is a hobbyist's printer for under $500.
Recommended: MakerBot Replicator+ (Plus) Review 2022 | Is It a Good Value For Money?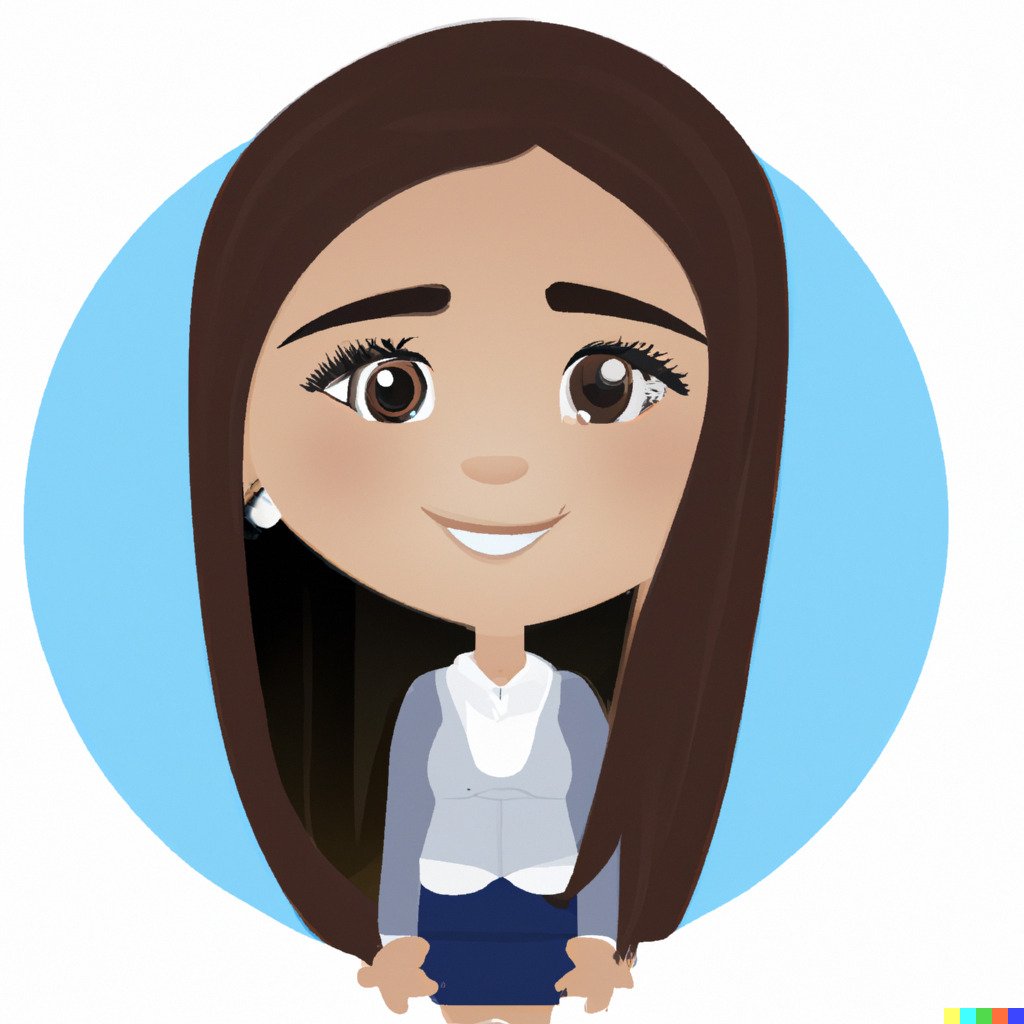 Selena Richard
Selena Richard is a tech blogger and entrepreneur who is passionate about new technologies. She has a keen interest in 3D printing and sublimation printers, which she uses to design crafts and solve problems for small business owners.

Selena provides simple and effective solutions for small business growth. With a team of expert members, she targets the needs of small business owners and takes pride in her work.