Epson WorkForce WF-7720 Wide-Format All-in-One Printer
The Epson WF-7720 is a respectable all-in-one inkjet printer with a lot of features. Although it is compact, it packs with functionality. For example, it has three separate paper input trays to accommodate various types of paper media. It enables the scanning of documents and duplex printing, and it has numerous connectivity options. Because of its solid construction and robust yet highly efficient, it also features an excellent touchscreen.
If you print documents, it prints slowly and with poor color accuracy; however, it does print quickly when you print photos. Furthermore, while printing with the normal black cartridge does not cost a lot of money, the page output of the cartridge is relatively poor. If you print a lot, you can take advantage of high-capacity cartridges, which are readily accessible.
RELATED: Top 8 Latest Sublimation Printers for Beginners 2022 Picks & Reviews
WorkForce WF-7720 Wide-format All-in-One Epson Printer Reviews – Everything you Need to Know
Printing Quality
Except for some light banding with one or two of the business graphs and charts that I printed, the graphs and charts looked good, except for some colors and greys that came out a little darker and clear. However, most of our pdf files, charts, and handouts appeared to be suitable for use in a wide range of business instances, depending on how picky you are.
1. For Images
Although it doesn't take numerous 13×19 inch borderless images to completely deplete an Epson ink cartridge or two, our test photos turned out well as well. However, compared to printers designed specifically for photo printing, I noticed a general washed-out appearance throughout the document. I would still not try to print my favorite shots on this printer, and it should be okay to print embedded images in larger publications.
2. For Text
Generally speaking, Epson printers produce high-quality prints, and thus the WF-7720 is no exception in this regard. Text quality appeared to be a near-laser quality across the board, from the shortest fonts we printed (4 points) to the largest fonts we printed (70 points and beyond). It made it much more than adequate for most enterprise applications, including those with small text.
Printing Speed
There are some positive and some negative findings when it relates to printing speed with the WF-7720. The printing speed isn't particularly fast when printing standard documents. However, when it comes to photo printing, it is pretty rapid in contrast to its competitors. If you are looking for a printer that would print text documents more quickly, this printer is not the best option.
Even so, there are a variety of alternatives that can have an influence on the pace at which your print job complete. Increasing the speed at which you print is possible, provided you are ready to make some sacrifices in terms of quality. Nonetheless, the WF-7720 prioritizes quality over speed.
Power Consumption
In comparison to its competition, this printer utilizes less electricity. Printers that use less power than regular printers can save up to 80% in some cases. As a result, this printer is an excellent choice for those who care about the environment.
Connectivity
1. Wired/Wireless
The business-oriented Epson Workforce WF-7720 equips with a variety of connectivity options for connecting to your PC, including Ethernet, Wi-Fi Direct, Wi-Fi, and USB connectivity for connecting to a single PC. The USB thumb drive port is located on the left of the frame, beneath the control panel, and allows you to print from it and scan to USB thumb drives. Along with this, you'll have near-field communication (NFC), which is a peer-to-peer network technique that allows you to begin printing or scanning a document.
2. Mobile App
Also available for Apple iOS and Android devices is Epson's Connect suite of phone applications, which features Epson Remote Print, Epson Email Print, and Epson iPrint. Google Cloud Print, Apple AirPrint, and Fire OS printing are all supported for connecting to tablets, as is third-party mobile connectivity.
RECOMMENDED: Can You Use Sublimation Paper in Any Printer?
Wide Formatting
This printer has a distinct edge over its rivals when it concerns wide-format printing, owing to its ability to print in larger 13″ x 19″ printing formats than its competitors. Those few extra inches may make a significant difference and provide greater flexibility for someone who prints wide-format documents on a regular basis.
Wide-format printing is ideal for a wide range of printing requirements. It is particularly true when it comes to sublimation printing. Wide-format printing can make a significant difference in the quality of your printing for t-shirts, jumpers, and other garments.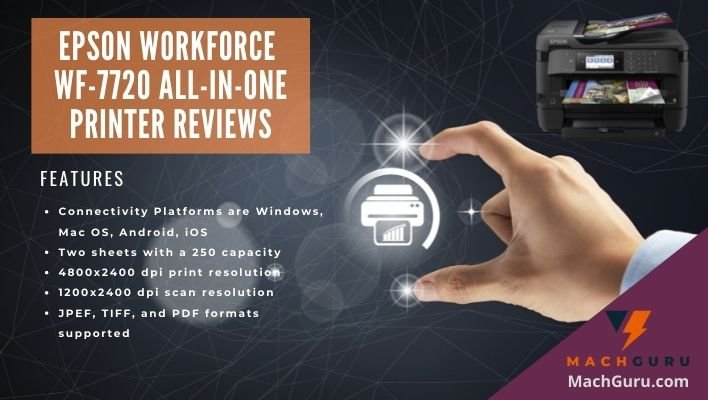 Dual-Side Printing
Using this printer, you will be able to print on dual sides of the paper, which will save your company a significant amount of paper resources. The scanner and copying functions on dual sides of a document are also supported. The ability to print on both sides isn't advantageous to sublimation fans, but if you're searching for a professional option, this is the machine for you.
Paper Storage Capacity
The WF-7720 equips with two paper trays, each of which can hold up to 250 pages. In addition, a third tray provides at the back, which can be using for specific paper kinds. This printer has a storage capacity of up to 500 sheets of paper when all of the options are combined. Having numerous paper trays lets you maintain various paper sizes on hand at any given moment.
Running Cost
Because wide-format papers can cost twice or even more print as regular letter size (8.5 x 11 inch) pages, you will want a printer with low operating expenses if you anticipate printing a quantity of them. Printer manufacturers have always charged a little premium for bigger printers on a per-page basis to cover the additional costs of ink. Recently, certain businesses, including Epson, have attempted to alleviate the high CPP (Cost Per Page) associated with some of their products; however, the WF-7720 is not like other items and will continue to be so.
Using Epson's stated page rates and the costs for the highest-yield toner for such a printer, I looked at the cost per page for black pages to be 3.2 cents and the cost per page for color pages to be 11.4 cents for black pages. Despite its high operating expenses, the Epson WF-7720 has a vast scope of its extensive feature set, which includes the ability to produce super-tabloid-size print pages. High-capacity trays for papers and a duty cycle on the higher end of the spectrum are present.
Epson Ink Cartridges
If you're looking for the best deals on Epson ink cartridges, you can check Inkjet Printer Cartridges and Amazon. In both online stores, they offer a wide assortment of Epson ink cartridges at low prices. Whether you need black or color ink cartridges, they have them all and more!
Finding the best sublimation inks for Epson and Sawgrass printers is easy now. Just visit this article, Best Sublimation Inks of 2022 – Compatible with Epson and SawGrass, it will help you to find compatible inks for your printer.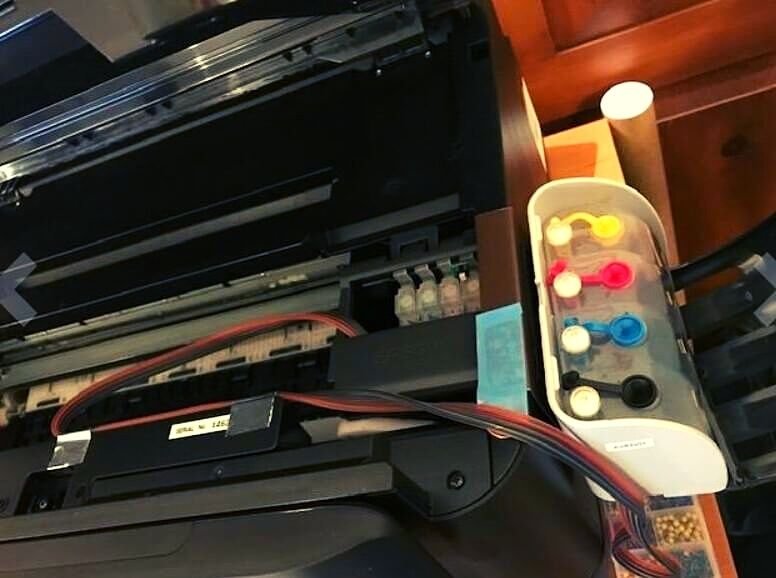 In the Box
Printer
Ultra Ink cartridges (DURABrite)
Power cord 4
CD with Software
Manual
Specification of Epson Workforce WF-7720 Printer
Dimension is 16.5 x 22.3 x 17.8 inches (H x W x D)
The weight of the item is 49 pounds
Display 4.3 inches with touch screen
It comes with a 1-year Warranty
Key Features (WF 7720)
Connectivity Platforms are Windows, Mac OS, Android, iOS
Two sheets with a 250 capacity
4800×2400 dpi print resolution
1200×2400 dpi scan resolution
JPEF, TIFF, and PDF formats supported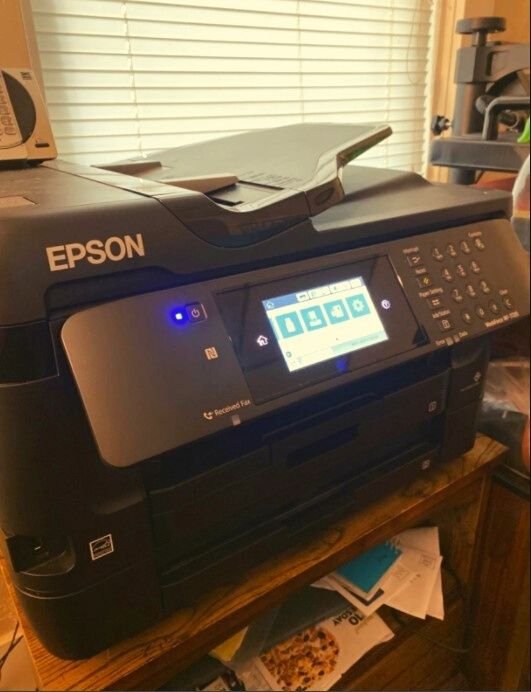 Pros
Printing in large format
Large paper holding capacity
ADF and scanner with auto-duplexing functionality
Diverse forms of connectivity options
An attractive and user-friendly control panel
Cons
A massive footprint
Printing that is audible
Bottom Line
This WF-7720 evaluation should have assisted you in determining whether or not this sublimation print is the right approach for you at this time. Whoever you are in terms of sublimation printing, the WorkForce WF-7720 is a great option. It is suitable for both beginners and professionals. Because of its wide-format printing capabilities, this printer is the best machine available on the market today for producing large-scale documents as well as sublimated products.
With this printer, you can expect very high-quality scanning and printing results. You will not make a mistake if you get this versatile, high-capacity printer. Epson's WF-7720 wide-format printer is designed to deliver the same high-quality printing and scanning as a conventional Epson printer to large-format printers.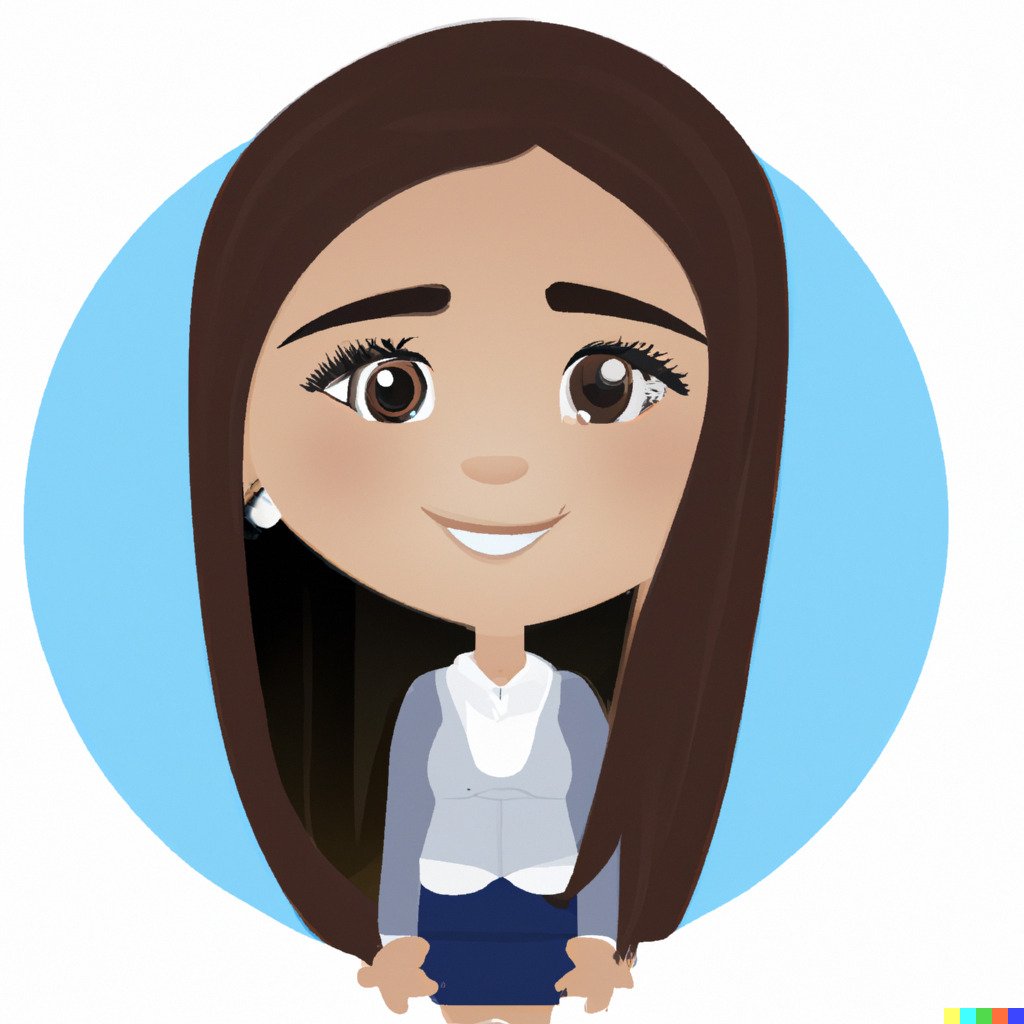 Selena Richard
Selena Richard is a tech blogger and entrepreneur who is passionate about new technologies. She has a keen interest in 3D printing and sublimation printers, which she uses to design crafts and solve problems for small business owners.

Selena provides simple and effective solutions for small business growth. With a team of expert members, she targets the needs of small business owners and takes pride in her work.